Popis
Basic information:
The TOGAF® 9 Standard is an internationally recognized framework for a dynamic approach to business-oriented delivery of enterprise architecture. Describes proven methods and ways to strategically and effectively develop, plan, maintain, sustain and govern EA across the organization or its components.
In the current version 9.2, the standard has been significantly sharpened and divided into: Introduction, TOGAF Architecture Development Method (ADM), ADM Guidelines & Techniques, TOGAF Architecture Content Framework, Enterprise Continuum & Tools, TOGAF Capability Framework. Last but not least, The Open Group community has prepared and implemented the TOGAF Library concept as a publicly accessible "structured area" designed to store appropriate source materials for various specific areas of architectural work.
After obtaining a set of detailed info about the areas of the TOGAF® 9 standard and its intersections with the surrounding context of other frameworks, participants will be able to understand important work in the field of EA. They become the holders of knowledge that are directly usable in practice during the performance of the architectural function. Thus, they will have the competence to proactively design, guide, sustain, implement and govern EA in their organization environment.
TOGAF® 9 Version 2: Certified Syllabus: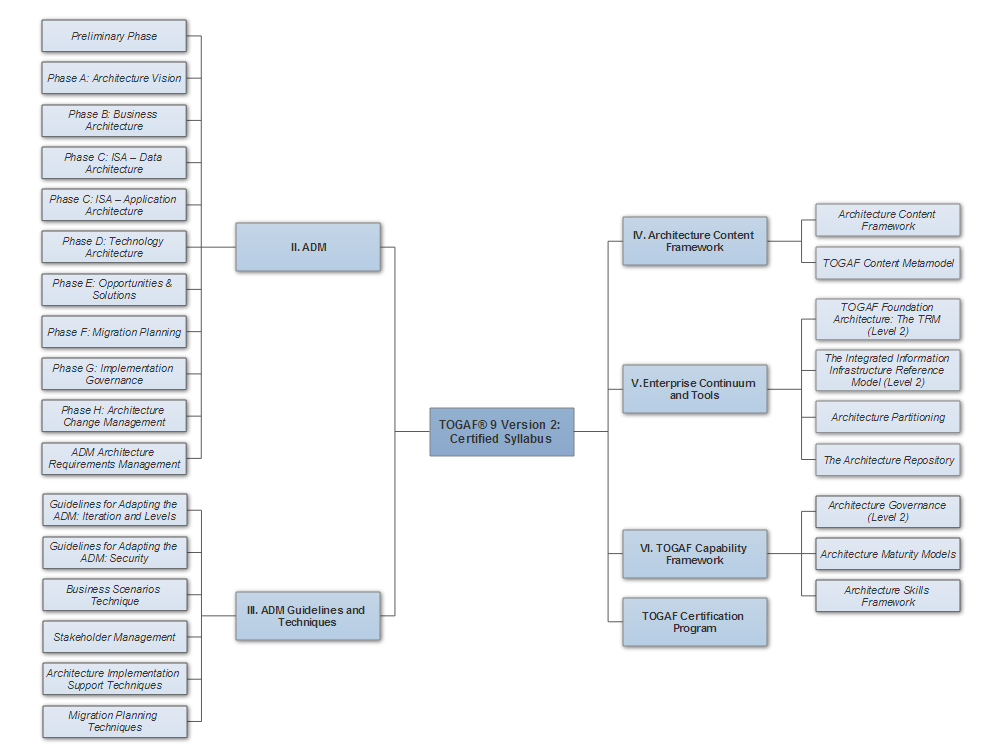 Certification exam – more information
https://certification.opengroup.org/docs/PearsonVUE_Registration_Process.pdf
Prerequisites:
Advanced Architecture Overview (ICT, Business, Security) / Quality Assurance / Project Management / Service Operations
Knowledge of the TOGAF® standards, additional standards (ArchiMate, IT4IT, ITIL, COBIT, SABSA, etc.)
Very good English (training materials, supplementary materials and certification exams are in English)
Full concentration and attention during training, willingness to interact with learning material, proactive approach, collaboration
Responsible time investment in preparation and individual exercises given by the lecturer
The successful completion of the Certification Exam Foundation is a prerequisite for accessing the Certified Exam
Target Audience:
Roles: Architect (ICT / Business / Enterprise / Solution, Security), Project Manager, Procurement Specialist, Corporate Legal / Risk Management Specialist, Strategy / Corporate Management, CxO
Professionals working in roles associated with an architecture project such as those responsible for planning, execution, development, delivery and operation
Architects who want to achieve a Certified (L2) level, i.e. a deeper understanding of the TOGAF® 9 Standard, and having the ability to fully use it in practice
L2 CERTIFIED
1 x certification test
Certification L2 Certified
For graduates of Level 1
Interactive exercises on real examples from practice
Practice tests provide feedback for successful certification
TOGAF® 9 Version 2 course is accredited by The Open Group. The Open Group Certification Mark, ArchiMate® and TOGAF® are registered trademarks of The Open Group.